Phone:

+44 (0) 20 3551 6634

Fax:

+44 (0)870 428 5141

E-mail:

Web:

Facebook:

Twitter: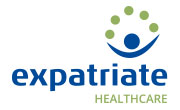 As our name suggests, Expatriate Healthcare is dedicated to providing international healthcare insurance for those living and working abroad. In fact, because that's all we do, we are best placed to provide you with the right medical cover, at the right price to compliment your lifestyle overseas.
Our focus to deliver peace of mind is reflected in our 3 key plans, which offer varied levels of medical and health cover to suit your personal circumstances and budget.
All our plans are brought to you by experienced insurance healthcare specialists and world leading providers of underwriting, assistance and claims services.
International Healthcare Insurance
Expat Travel Insurance
Expat Term Life Insurance
Income Protection Insurance