Phone:

703-979-2830

Fax:

703-979-2813

E-mail:

Web: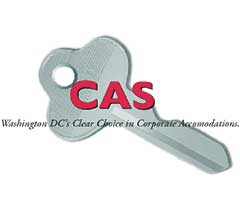 If you are staying in Washington, DC, Northern Virginia or suburban Maryland for more than a month, CAS has the right serviced apartment for you. With our great locations and short term furnished apartments, you can't go wrong. Best of all, our executive apartments are always available month-to-month.
The Hotel Alternative
Business travelers to Washington, DC are discovering an attractive new option in business accommodations. Corporate Apartment Specialists, Inc. offers business travelers, consultants and other short-term renters a new alternative to the traditional hotel room. CAS offers the quality, space, and luxury that an apartment affords. Whether your assignment takes you to downtown Washington or suburban Virginia or Maryland, CAS has the right apartment for you.
Value
While you won't sacrifice comfort or convenience when you go with Corporate Apartment Specialists, you will save money. Staying at a CAS apartment offers a cost-effective alternative to the traditional hotel room. Prices for CAS executive apartments can be as low as 50% of the price of a hotel room.
Convenience
You make the call, and CAS does the rest. You get one monthly statement, making reimbursement from your company a breeze. We will find the situation that suits your needs and your budget. Call us at 1.800.914.2802 or contact us online to discover the new world of executive apartment accommodations.