Phone:

(301) 442-8122 (Gretchen Direct)

E-mail:

Web: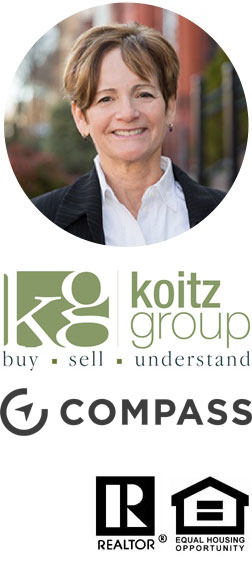 The [Gretchen] Koitz Group delivers the highest quality experience in real estate representation for both buyers and sellers of luxury property in the close-in DC Metro area. Its reputation has been earned through painstaking attention and personal service.
For The Koitz Group team leaders and staff, the ultimate goal is long term relationships with every client. Through a high-tech, consultative, "hands-on" approach with their clients, they are proud to be known as the "knowledge center" to which clients love to return and to refer their friends.
True to Gretchen Koitz's core philosophies, The Koitz Group is known by clients as trustworthy, patient, knowledgeable, "hands on", friendly, and caring. A comfortable, seamless real estate transaction is paramount. With the The Koitz Group, the results speak for themselves and there are many satisfied buyers and sellers who can attest to the success of its fundamental principals.
The addition of an in-house online marketing specialist has raised the bar (literally years ahead of other brokerages). Internet marketing, including the most sophistocated social media (Twitter, Facebook, Blogging...) practices and techniques is emphasized in order to produce unrivaled exposure.
Sometimes it's best to let a past client do the talking (other kind words available upon request):
"I love [The Koitz Group's] level of service!! Like going to the Four Seasons!!"
- Miles P.
Ready for more information about how The Koitz Group can help you buy or sell residential property in the close-in DC Metro area?
Visit them online (above) or contact Gretchen directly at 301-442-8122 or gk@koiztgroup.com
The Koitz Group @ Compass
1506 19th St NW
Washington, DC 20036
202.491.1275