Phone:

(202) 362-9300

Fax:

(202) 686-3405

E-mail:

Web: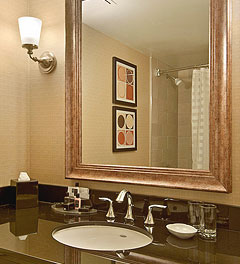 Our Hotel
A Destination Hotel & Resorts property, the Embassy Suites Hotel at the Chevy Chase Pavilion offers award-winning hospitality and exceptional value. Located in the upscale Friendship Heights district in Washington D.C., directly on the Metro Red Line, the Embassy Suites Hotel offers the best of both worlds, half-way between the Bethesda-Rockville, Maryland business corridor and near Washington D.C. businesses and sites, yet in walking distance of the renowned Chevy Chase shopping district.
The Embassy Suites Hotel finished a $1.2 million renovation in January 2009 which completed more than $5.5 million worth of improvements began in 2007 updating our suites, restaurant, public areas, entrance and health club. All of our suites feature new 37" and 32" flat-panel HD televisions and programming, cordless telephones and our king suites offer an expansive new work desk and ergonomic chair. Upgraded furnishings throughout the suites are complemented by improvements in all of our public spaces. Our new look did not change who we are. The Embassy Suites Hotel still offers our famous complimentary cooked-to-order breakfast and evening manager.s reception and lets guests enjoy one of the largest free-to-guest Fitness Centers in the Washington D.C. area.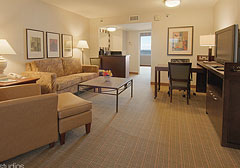 Located just five miles from the Capital Beltway, and nine miles from Ronald Reagan Washington National Airport, the Embassy Suites Hotel at the Chevy Chase Pavilion combines the perfect location with outstanding service. With the Chevy Chase Pavilion right above the Friendship Heights Metro Station, a short ride takes guests to the D.C. Metro area commercial districts, the Washington Convention Center and to the many famous attractions of our nation's capital, including the National Zoo, historical monuments and the world's finest museums. The Embassy Suites Hotel is also situated closely to the National Institutes of Health (NIH), the National Library of Medicine and both the Walter Reed Army Medical Center and the National Naval Medical Center.
The Embassy Suites Hotel upgraded our high-speed Internet access (HSIA) to the Hilton Stay-Connected Program which is available for a nightly fee in all guest suites and public areas. Whether your travel to Washington D.C. is for business or leisure, the staff at the Embassy Suites Hotel prides itself on its commitment to guest service by going above and beyond the call of duty for our guests - your satisfaction is our pleasure.
Your Suite
The suites in our Washington DC hotel feature two distinct living spaces - a sitting room and bedroom. The sitting room is ideal for relaxing with family or friends or for hosting a meeting with colleagues. Each suite is furnished with two Flat-Screen HD televisions, including a 37" television in all living rooms and 32" sets in all suite bedrooms. A queen-size sofa bed, cordless telephone, well-lit desk/dining area, refrigerator, coffeemaker and microwave are also featured in all of our suite living rooms. Our new bedroom armoires feature expanded closet and drawer space plus the convenience of a full-length mirror in addition to comfortably housing our iron and ironing boards. We have also upgraded our high-speed Internet system (HSIA) to the new Hilton Stay Connected program (fee applies) offering wired and wireless connections in all of our suites with wireless access also available in all of our public areas and restaurant.
With all of our DC suites, you will enjoy our complimentary cooked-to-order breakfast and evening manager's reception daily along with access to our completely renovated and expansive health and swim club.
Embassy Suites Hotel has three one-bedroom luxury suite layouts to choose from and all feature a queen-size pullout sofa-bed in the living room:
King Suite
Double Suite
Executive Suite
Your Neighborhood
From restaurants to shopping, Chevy Chase/Friendship Heights has everything you need to make your stay in D.C. enjoyable. In fact, you'll enjoy your new neighborhood so much you may never want to go home.
Our area has experienced tremendous growth and now features some of Washington D.C.'s finest shopping with new stores located only steps from the hotel. Some of the stores include Neiman Marcus, Saks Fifth Avenue, Jimmy Choo, Louis Vuitton, Tiffany & Co., Bloomingdales, Ralph Lauren, Barney's Co-op and many, many more!
Getting Around Washington DC
While in D.C, avoid the hassle of owning or renting a car. The Metro is located just below the Embassy Suites and is the most convenient way to travel around D.C. Visit the Metro website at www.wmata.com to plan your travel around D.C.
Floor Plans & Photos
Photos
Click HERE to view our photo gallery.
Double Suite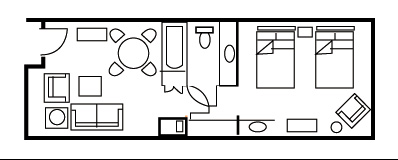 King Suite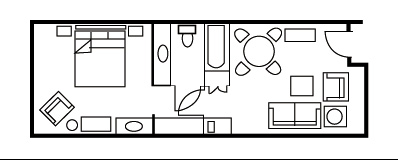 Executive Meeting Suite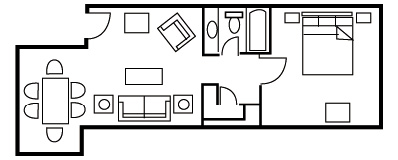 All 198 of our two-room suites were renovated again in 2009. All suite bedrooms now feature a 32" HD television and new armoires and all living rooms host a 37" HD television, cordless telephones and a new high-speed Internet system to ensure convenience and comfort for all of our guests.