Phone:

(800) USA-8619

E-mail:

Web:
USA Connect is an Internet service and solutions provider. USA Connect offers high speed Internet, network support, computer support, web hosting, VoIP... any solution you need at a competitive price!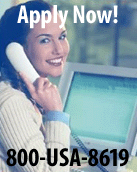 USA Connect has been providing services to Consulates, Missions, & Embassies for ten years. USA Connect provides all transport capable Internet services, including Voice-over-IP (VoIP), dial-up, ADSL, SDSL, T1, and wireless. Hosted co-location servers and websites are available 24/7 from our data center.

USA Connect will work with you to customize a solution for you based on your needs and budget. Our technical staff will provide you with personalized world-class support. Please call us at 800.USA.8619 to discuss your Internet & computing needs. Mention this ad and receive a free gift!