Rock Creek, which flows south through the District to empty into the Potomac, passes under Massachusetts Avenue. The creek and the wooded land along it was set aside as parkland; Rock Creek Park encompasses some 1,750 acres, some three quarters of which is forested, as one of the country's largest urban parks. The park was established in 1890.
A controversial issue in recent years has been a proposal to site cellular communications towers in the Park, to reduce "dead zones" in cellular coverage within the District.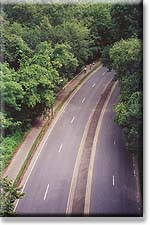 Rock Creek Parkway runs along the creek, along with a trail for hikers, joggers and bikers.
According to the US Geological Survey:
Rock Creek Park is made up of steep canyons and side slopes that bisect several significant east-west trending ridgelines. The park descends along the fall line through numerous small rapids along the creek. Rock Creek itself, descends over 150' from the state line to its confluence with the Potomac River... All sections are accessible either by automobile or by hiking. Most portions of the park are accessible through short hikes, usually under one mile. Gradients above the floodplain are surprisingly steep, and make for some moderate hiking.