Sheridan Circle is named for General Phil Sheridan, a hero of the American Civil War and subsequent military campaigns against the Sioux and other Native American tribes. A statue of Sheridan on horseback stands on a low platform in the grassy center of the Circle.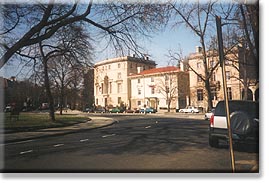 A number of embassies ring Sheridan Circle, including the former Turkish chancery and the Romanian embassy on the southern side, and the Embassy of Pakistan to the northwest.
Looking back along Massachusetts Avenue one sees Dupont Circle in the distance; in the other direction, the avenue rises toward a bridge over Rock Creek Park.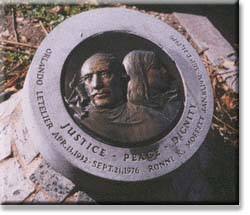 On September 21, 1976, Orlando Letelier, who had been foreign minister in the ousted Allende government of Chile, was killed in a car bombing, along with colleague Ronni Karpen Moffitt. The bombing was blamed on Chilean secret police. Letelier and Moffitt are commemorated with a small plaque embedded in the grass along the curb where they died, near the Irish and Romanian embassies.