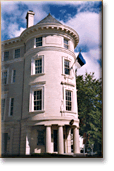 Further down Massachusetts Avenue is one of the most striking of embassy buildings, the Chancery of the Estonian Embassy. Selected for its resemblance to the buildings of Estonia's capital, Tallinn, the building was refurbished for occupation by the Estonian government after the breakup of the Soviet Union, and the recognition of the Estonian diplomatic mission. (Throughout the period when Estonia was, by Soviet count, a republic of the USSR, the US never recognized its annexation.)
With the breakup of the USSR, Washington received a number of new embassies, including Estonia, Latvia, Lithuania (the three Baltic States), Ukraine, Belarus, Armenia, Azerbaijan, Georgia, Tadzhikistan, Kazakhstan, Turkmenistan, Uzbekistan, Kirgizstan, Moldova and Russia, which retained the former Soviet embassy facilities.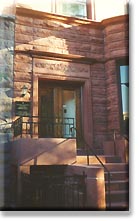 With the breakup of the former Yugoslavia, a number of other new countries established embassies. In addition to the current Yugoslav embassy (representing the remaining union of Serbia and Montenegro), there are embassies for Slovenia, Bosnia-Herzegovina, Croatia, and Macedonia. And the Czechoslovak Embassy is no more, replaced by separate embassies for the Czech and Slovak Republics.
A number of countries lack embassies for diplomatic reasons, where the U.S. government doesn't recognize a government, or where intergovernmental relations are especially strained. Three countries-Cuba, Iran and Iraq-are represented through "interest sections," i.e., offices where diplomats of those countries work, attached to other countries' embassies. The Cuban Interest Section, for example, is regarded by the U.S. government as a part of the Swiss Embassy.
Countries also move embassies from time to time, most often to more prominent places such as along Massachusetts Avenue.