Massachusetts Avenue, NW, is home to many of Washington D.C.'s foreign embassies, and "Embassy Row" is usually taken to mean the stretch of Massachusetts from just north of the White House, out toward the Naval Observatory.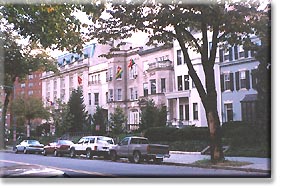 As with the other "states" avenues, Massachusetts is at an angle to the north/south, east/west grid formed by the numbered streets (e.g., 17th Street) and lettered streets (e.g., P Street).
As a major avenue, Massachusetts was laid out to welcome both vehicular and foot traffic, with wide sidewalks. Many of the avenues have traffic circles at major intersections, with monuments at their centers.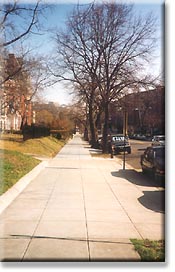 In 1862, during the American Civil War, Anthony Trollope wrote, in his North America:
Of all places that I know it is the most ungainly and most unsatisfactory: I fear I must also say the most presumptuous in its pretensions. There is a map of Washington accurately laid down; and taking that map with him in his journeyings, a man may lose himself in the streets, not as one loses one's self in London, between Shoreditch and Russell Square, but as one does so in the deserts of the Holy Land, between Emmaus and Arimathea. In the first place no one knows where the places are, or is sure of their existence, and then between their presumed localities the country is wild, trackless, unbridged, uninhabited, and desolate. Massachusetts Avenue runs the whole length of the city, and is inserted on the maps as a full-blown street, about four miles in length. Go there, and you will find yourself not only out of town, away among the fields, but you will find yourself beyond the fields, in an uncultivated, undrained wilderness. Tucking your trowsers up to your knees you will wade through the bogs, you will lose yourself among rude hillocks, you will be out of the reach of humanity...

...It is impossible to state with accuracy the actual population of Washington, for it fluctuates exceedingly. The place is very full during Congress, and very empty during the recess. By which I mean it to be understood that those streets which are blessed with houses are full when Congress meets. I do not think that Congress makes much difference to Massachusetts Avenue.
Clearly, times have changed, as a map of the embassies now lining Massachusetts Avenue shows.